If you're like me, you woke up slow just before noon this past Friday, still sticky and bloatey from the day before. Then you spent some time channel surfing before finding Fox Sports 1 just in time for the Marshall vs. Western Kentucky kickoff. And if you're like me, you read the Underdog Dynasty game preview ahead of time and expected a decent first quarter before Marshall would pull away and you could settle into a nice nap. Perfect.
That's what we expected. Well, what we ended up with was the Group of 5 game of the year - the most exciting 4+ quarters of the 2014 season.
The game was a ton of fun to watch, and believe me — no naps were involved. But in addition to the fun, the game was also an objectively atrocious display of defensive football. 67-66! 91 points at halftime! 1400+ combined yards!
You know when you teach your sister how to play Madden for the first time, and her players just dive in the general direction of the ball carrier without a prayer of making a tackle? I wish the Herd or Hilltoppers had shown that level of skill. The numbers are astounding, the tackling — cringe worthy — and that highlight reel is a defensive coordinator's nightmare. "So," I thought, "THIS is what happens when Power 5-caliber offenses meet middle-of-the-road Group of 5 defenses."
And now we finally know what Marshall is. An explosive offense with play-makers two deep across the board that unfortunately ended up paired with a Swiss cheese defense.
I've spent a considerable amount of time crying out against the College Football Playoff committee for icing out Marshall from day one, and I still stand by those objections. Objective measures need to be established so that should a team go undefeated, regardless of schedule, they deserve a shot at the belt. "This Year's Boise State" I called the Herd — likening them to the Group of 5's finest moment to date.
Well, after the loss Friday afternoon, another notorious Group of 5 moment was brought to mind: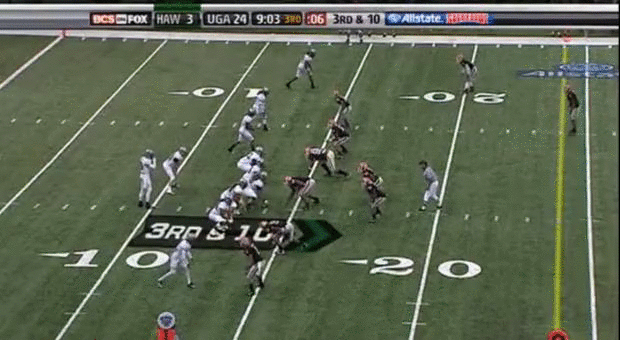 "This Year's Hawaii" is more like it. If you'll remember, Hawaii finished the 2007 regular season 12-0 and won the WAC with ease, reaching No. 10 in the BCS rankings. June Jones' run 'n' shoot style offense put up big numbers — many of their games were won in 2014 Marshall fashion.
Hawaii earned a bid to play Georgia in the Sugar Bowl — experts gave them a decent chance at pulling off the upset. As the above Gif indicates, the Dawgs made Hawaii look like a high school team and beat them soundly. Heisman finalist and star quarterback Colt Brennan's limp body needed to be peeled from the Superdome turf more than once.
The Warriors had no business playing in the Sugar Bowl. Perhaps if they had played a Power 5 opponent other than a middling Washington Huskies team at home that year, we would have known as much prior to kick off.
Which is why Western Kentucky probably just did us all a favor by going for two Friday — abruptly ending the 'Marshall conversation'. Had the Herd finished undefeated and jumped Boise State, earning a New Year's Day Bowl, there's a good chance their season ends the way Hawaii's did seven years ago. In pain. Stay down, Colt. Just stay down.
* * * * *
But at least we know how the CFB Playoff Committee is going to operate from now on. Who you play, and how you play them, is going to be just as important as the number of games lost. Until further change comes about, if a Group of 5 school is going to have any shot at cracking the top four, they are going to need to step outside their comfort zone a little, shake things up. Here's how.
1. Go South - Boise State earned enough street cred with the committee in losing ugly to Ole Miss in Atlanta that they were able to lead undefeated Marshall in the standings going into Week 13 (had Ole Miss not been the hottest team in football coming out of the gate, BSU may have even won the game). Point is, this is a must. Traveling below the Mason-Dixon to play (read: beat) a credible SEC or ACC school is the first and most important step in getting noticed.
"Northern Illinois upsets Clemson in Death Valley 28-17"
2. Win big - This one takes a little bit of luck, but if you can catch a Power 5 school with name appeal on a down year, then trounce them? Double Whammy.
"Northern Illinois smokes Michigan State at Soldier Field 35-10".
Are you paying attention to this fictitious NIU yet? Of course you are.
3. Win Your State - Playing your Power 5 in-state or regional peer is a great barometer for how you might do playing their "tougher schedule." Make the comparisons easy by playing them annually. Win this round.
"NIU off the 3-0 start after big win against Notre Dame"
4. Win the G5 Public Opinion Battle - You don't have to play all four non-conference games against Power 5 schools. For you 4th game, play a top flight G5 school from a different conference on the road. This shows you can travel well, and puts you at the top of the G5 leader board.
"NIU beats Boise State on the Blue Turf, moves to 4-0"
4. Conference Play - This goes without saying, but winning the conference has to look easy. Averaging 48-16 victories for 8 weeks is hard to do. Do it anyway. Hopefully your peers will help you out with some upsets of their own to give your conference some notoriety.
"NIU cruises to MAC title completing 13-0 regular season"
5. Have a Star - It's a lot easier to get on ESPN and win the beauty pageant if you have a Heisman finalist.
"Experts rave about NIU's QB - think he'll score big against Alabama's defense"
And there you have it. Five super difficult steps necessary to simply be in the conversation for the CFB playoff. Of course, we also need a few Power 5 conference champions to have two losses, several late season upsets to take place, and nothing to go wrong with our Team of Chaos at any point, ever.
But hey, this is college football. And anything is possible next year.