WHO: Appalachian State 4-5 (3-2) at Arkansas State 6-3 (4-1)
WHEN: Saturday, November 15, 2014
WHERE: Centennial Bank Stadium, Jonesboro, AR
WEATHER: 39°/34° 20% rain
LINE: Arkansas State -14.5 (opened -13.5)
After stealing South Alabama's thunder and becoming bowl eligible in their place a week ago, Arkansas State can focus on the next item on their list-a share of the Sun Belt Conference title, which would be their fourth in a row. The Red Wolves will need a little bit of help from others if they hope to capture this, but they will keep running and howling as long as the dream remains possible. And anyway, they mostly have to help themselves first.
That starts against Appalachian State, which leaves its mountains and rarefied air (i.e. an elevation of 3,333 ft) and which must now make the trip all the way down to a Jonesboro that is just about at water level (i.e. only 259 ft above the sea). With a win, A-State would not foil an opponent's plan to gain bowl eligibility for the second week in a row-they would simply win, and that's plenty enough. Because one does not simply come to Centennial Bank Stadium and win their sixth game of any season.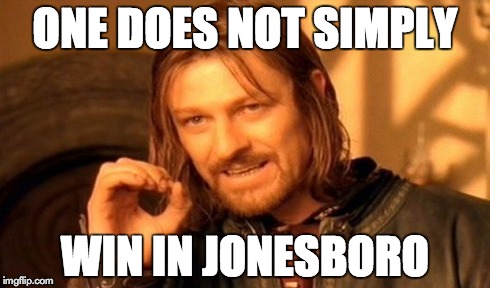 Three Keys To The Game
Which team will be at its best: This is where my readers nod and say, "Gee thanks, Captain Obvious. Really happy you're running out the cliché that's also obvious. A double dose of annoying. #stud"
But truly, this might actually matter. The Mountaineers have answered four losses in a row with three straight wins while the lone blemish among the Red Wolves' previous six games is the sad run odyssey in Lafayette. It's especially important when the statistics between two teams are this close and similar. Really, pick a number-points for, points against, yards per play, time of possession-and they're all fairly similar.
Stop the run: If there is one place where the two teams are somewhat different, it's in how their offense is built. The balance is tilted a little more toward the run game for the Mountaineers than it is for the Red Wolves and coincidentally, the run defense might be where the latter are most vulnerable. While those problems might have doomed A-State only against Louisiana, those problems remain real. And App. State's Marcus Cox is an even better homerun hitter than Michael Gordon is. Fredi Knighten is a better quarterback than Taylor Lamb, and he has better receivers in J.D. McKissic, Dijon Paschal and Tres Houston, but Appalachian State doesn't care because Appalachian State will attack you differently.
Expect Qushaun Lee to play a meaningful role, if only because the Mountaineers will run right at him. And because The General always plays a meaningful role anyway.
Turnover battle: Where the Red Wolves have managed to get some sort of separation from the Mountaineers is in that all-important (and all-too-easy-to-overrate, yes) category of turnovers forced and turnover margin. It's especially the case for Sun Belt Conference games, where A-State ranks a gaudy 7th and 5th for turnovers forced and margin-compare that to App. State's rankings of 72nd and 45th, and you might say that this will be a problem. Of course, these numbers are helped by the fact that A-State vandalized Idaho for all the turnovers in the world, but it's also silly to discredit the team for that performance. Sure, they forced eight turnovers-that's not a bad thing, people.
Prediction
While it would probably be following journalistic guidelines to pick these games somewhat objectively, it's so much more fun to make predictions according to your own allegiances. Plus, predictions are bound to eventually be wrong, so don't antagonize your readership for no reason if you'll be wrong in the end anyway. (See? I've got this blogging/writing thing down pat.) So far in 2014, it seems like everything that Appalachian State has managed to do, Arkansas State has done just a tiny little bit better, especially within conference. Including the whole abbreviation thing-A-State flows better than App. State. That's a fact. Let's say that the Red Wolves take it 31-22.